[ad_1]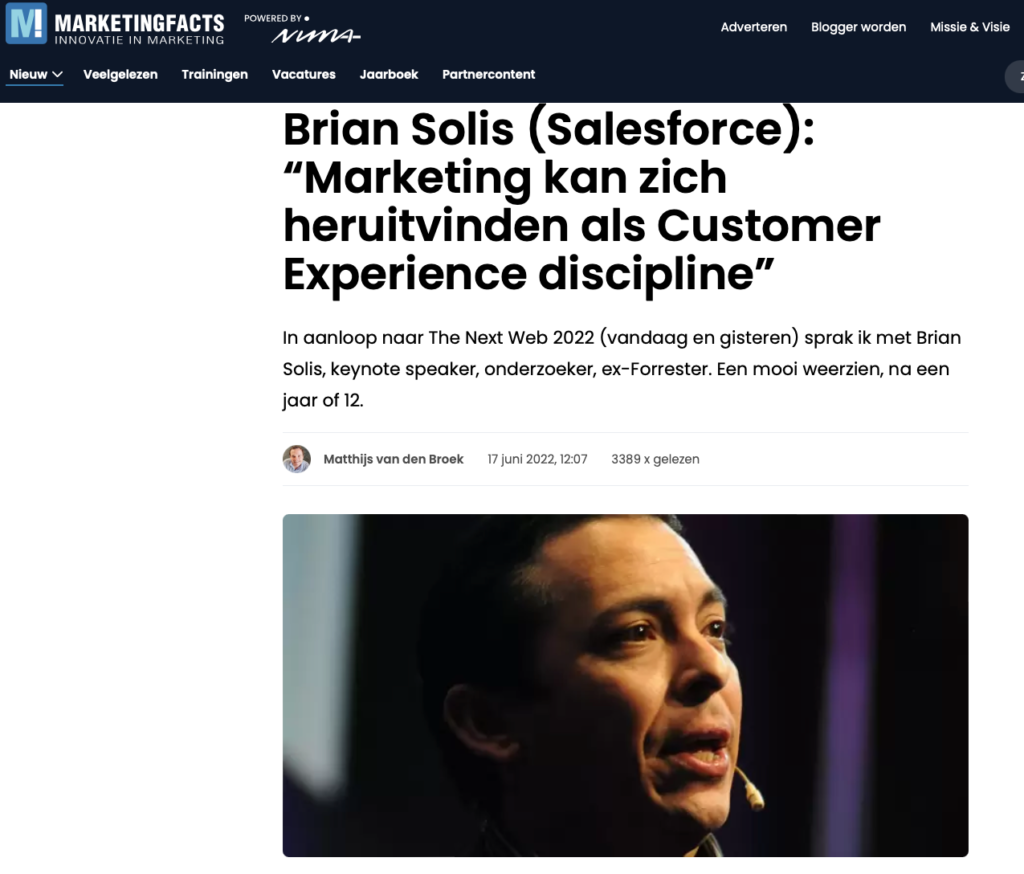 While in Brussels, I had a very welcome opportunity to speak with Matthijs van den Broek, MarketingFacts: Innovative in Marketing, after all of these years. What a pleasure!
Source: MarketingFacts
In aanloop naar The Next Web 2022 (vandaag en gisteren) sprak ik met Brian Solis, keynote speaker, onderzoeker, ex-Altimeter. Een mooi weerzien, na een jaar of 12.
De carrière van Solis is tot nu toe best indrukwekkend, niet alleen gezien waar hij nu staat (high-end adviseur van Marc Benioff bij Salesforce). Hij is niet alleen keynote speaker in het hogere segment, maar ook een echte onderzoeker, een oprechte graver. We spreken over CX, over uitdagingen, over always-on leven, over personalisatie, onder anderen.
Over Brian Solis
Solis spreekt veel over digitale transformatie, innovatie en disruptie, modern consumentisme, cultuur en werknemerservaring en digitale samenlevingen. Solis is sinds 2019 Global Innovation Evangelist bij Salesforce, waar hij zijn werk richt op thought leadership en onderzoek naar digitale transformatie, innovatie en disruptie, CX, commercie en de cognitieve onderneming.
Solis zet vaker voet op Nederlandse bodem, de mannen van CooPR spraken zo'n 12 jaar geleden een hele avond met hem, toen nog veel over PR. Ondergetekende deed toen de techniek van het interview dat we opnamen vooraf, dat lijkt ergens verloren gegaan in de geschiedenis.
Over Lifescale (2019)
Het boek Lifescale (bol.com) schreef Solis toen hij vastliep ("I thought it was a writers block") aan het prille begin van wat het volgende boek over digital transformation, tech en disruptive business had moeten worden. Doordat we always-on zijn, overprikkeld, altijd afgeleid, leven we eigenlijk niet meer het leven dat we willen of kunnen leven. In een interview een jaar geleden gaf Solis toe zich zelf "a victim of technology" te voelen, en daar wilde hij (vanzelfsprekend vanaf).
Niet door dan maar offline te gaan of zijn telefoon of laptop het raam uit te gooien. Solis is natuurlijk een tech-optimist, en deed een stevige soulsearch. Hij publiceerde het boek al in 2019, ruim voordat Corona ons in de digitale snelkookpan gooide.
In het interview bespreken we ook de negatieve gevolgen van de werking van de algoritmen van de grote social techreuzen die ons verslaafd maken en er eigenlijk voor zorgen dat we in een soort zombie-state terecht komen. Over de impact van het boek is Solis nog in dubio: "Mensen moeten begrijpen dat er iets mis is om te veranderen, om het beter en anders te doen. Je moet accepeteren dat de manier waarop jij je telefoon en social media gebruikt, onderdeel is van je eigen uitdaging". Well said. Er is een grote mate van ontkenning en ook onwetendheid bij consumenten. Mensen zijn verslaafd, het is onderdeel geworden van onze dagelijkse routine waardoor je niet eens meer onderkent dat het een probleem is.
"You're talking to a couple of billion addicts", zeg ik tegen Solis. Gelukkig moet hij lachen, om later bloedserieus te stellen dat dezelfde algoritmen die ons verslaafd maken aan leuke video's, ook verantwoordelijk zijn voor de totale polarisatie die nu overal in de wereld aan de gang is.
Over marketing en de uitdagingen voor marketeers
De uitdagingen voor marketing en marketeers zijn dezelfde als voor ons als privé personen: het is in tijden van info-overload, veranderende technologie en always-on moeilijk om te weten waar je nou precies moet zijn.
Bij Salesforce onderzoekt Solis de impact van de pandemie op ons gedrag en hij ziet een soort "overkoepelende generatie" ontstaan, de generatie Novel. Het is het idee dat iedereen die vanuit huis alles moest doen, een cross generational group werd met gelijkwaardige uitdagingen, aspiraties en wensen. "Iedereen werd een digitale narcist."
We zijn veranderd, denkt Solis. Maar marketing niet. En daar ligt een enorme kans. We hebben data, we hebben tools, we kunnen toestemming vragen aan mensen en we kunnen de customer journey opnieuw definieren, one touchpoint at a time.
Marketing moet volledig ownership pakken op CX
Dit zijn de tijden waarin nieuwe leiders en methoden gaan opkomen, waarin alles aan het veranderen is. De meeste rollen van mensen en ook die van marketing, zijn gedefinieerd in het pre-Corona tijdperk. Solis: "Hoe zou jij je rol invullen als je hem vanuit een digital first wereld zou aanvliegen?" Dit is de kans voor marketing: "Marketing kan zich heruitvinden als een Customer Experience discipline". Dat is echt een grote kans, vindt Solis.
Een goede CX en vertrouwen en transparantie, dat is wat consumenten willen. En als klanten in de lead zijn over hun eigen klantervaring, en als ze dat het allerbelangrijkste vinden, dan gaat het erom van wie die experience nu echt is, wie pakt daar het ownership? De marketing organisatie moet dat ownership gaan pakken.
Personalisatie als heet hangijzer
Ik wilde eigenlijk de strekking van dit artikel voorleggen aan Solis en eens horen hoe hij daarover dacht, maar hij onderbrak me vroegtijdig, "I gotta say this to you and I think you'll appreciate". Mooi heh hoe dat dan weer gaat, maar vooruit dan maar. Personalisatie voor marketeers, zegt Solis, is het juiste bericht versturen op de juiste tijd aan de juiste persoon. Maar personalisatie voor de gemiddelde consument betekent: "ken mij". Solis: "Dat zijn twee totaal verschillende dingen." True that. En doe er iets mee, marketeer.


[ad_2]

Source link